This team advocates for student development through Inspire, Challenge and Empower (ICE) Model. The interaction of the student and their learning environment is critical to the success of the student in their tertiary education.
The following are the foundations of the model:
Inspiring students by facilitating interactions with business communities and FANG like companies. This will help the students to broaden their perspectives of the world and how they can equip themselves with the necessary skills and mindset upon their graduation.
Challenging students with hackathons/mini-hacks to address real-life challenges. Hosting events such as Bhutan TED Talk alike, ICT Summits and Bootcamps to allow for students' learning and development through their participation in such events.
Empowering students as champions for ICT in Bhutan. The team will encourage and facilitate the formation of Special Interest Group (SIG) and Community of Practices (COP) for ICT areas where the students can serve as ambassadors or leads.
The team's other key responsibilities will include:
Organizing orientation and graduation process for all students.
Ensuring students adhering to College's student code of conduct.
Managing hostel allocation and ensuring hostel facility cleanliness for all students.
Providing student welfare, sports and recreational services.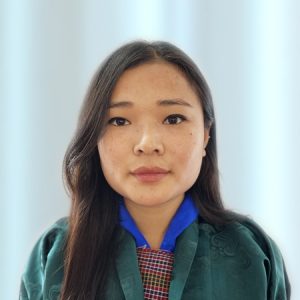 (Student Service Officer)
(Student Service Officer)
GCIT'S Librarians collect, organize and issue library resources such as a good collection of books, journals and magazines for different disciplines.
Their primary responsibilities are:
Maintaining the catalog of library resources in our library management system (KOHA).
Collaborate closely with the faculty members to ensure all library resources stay current with course offerings.
Housekeeping of electronic version of books and journals in Mandalay system for students' download.
Our Food Services function has a team of experienced cooks to prepare daily meals for all students on campus.
The key responsibilities include:
Management of monthly stipend for the entire student population. Maintaining collaborative relationships with key suppliers for effective kitchen operations.
Regular sourcing of food supplies from local farmers for reliable ingredients.
Ensure food hygiene and cleanliness of the kitchen.
On special events and cultural activities for the college, the food services team will plan and coordinate the preparation of food and drinks.
(Lead Student Food and Event)
Mindu Gyeltshen
(Manager)
Team Engineering Services
The electricity, carpentry and plumbing services make up the Engineering Services Unit. They supervise and spearhead day-to-day operations and upkeep of the college assets.
Plans, manages and implements comprehensive maintenance and refurbishment programs for the college.
Project manages all professional procurement and delivery of major and minor capital projects ranging from new buildings and campus improvements to alterations and refurbishment projects. This include preparing options appraisals and making recommendations for the improvement, refurbishment or alteration of buildings.
Manages local authority and statutory approval processes including planning applications, building regulation approvals, and other relevant approvals relating to the college.
Team Facilities Management
The facility management unit consist of gardeners and cleaning support staff.
They are specifically responsible for the following:
Administrating prayer services and major religious events for the college.
Ensuring healthy and good cleanliness practices of the classrooms, offices, labs, buildings and external areas.
Landscaping and beautification of the campus with local flowers and plants.
Maintaining of vegetables garden on campus.